Quarantine vs Isolate? And for how long?
𝐇𝐨𝐰 𝐥𝐨𝐧𝐠 𝐝𝐨𝐞𝐬 𝐨𝐧𝐞 𝐐𝐮𝐚𝐫𝐚𝐧𝐭𝐢𝐧𝐞 𝐨𝐫 𝐈𝐬𝐨𝐥𝐚𝐭𝐞 𝐟𝐨𝐫? 𝐖𝐡𝐞𝐧 𝐝𝐨 𝐲𝐨𝐮 𝐬𝐭𝐨𝐩 𝐛𝐞𝐢𝐧𝐠 𝐢𝐧𝐟𝐞𝐜𝐭𝐢𝐨𝐮𝐬?
.
This has been a topic of discussion a fair amount lately, especially with kids going back to school and the POTUS' testing positive for Covid-19.
How long does one quarantine for? That brings me to my first point: does one quarantine or isolate?
.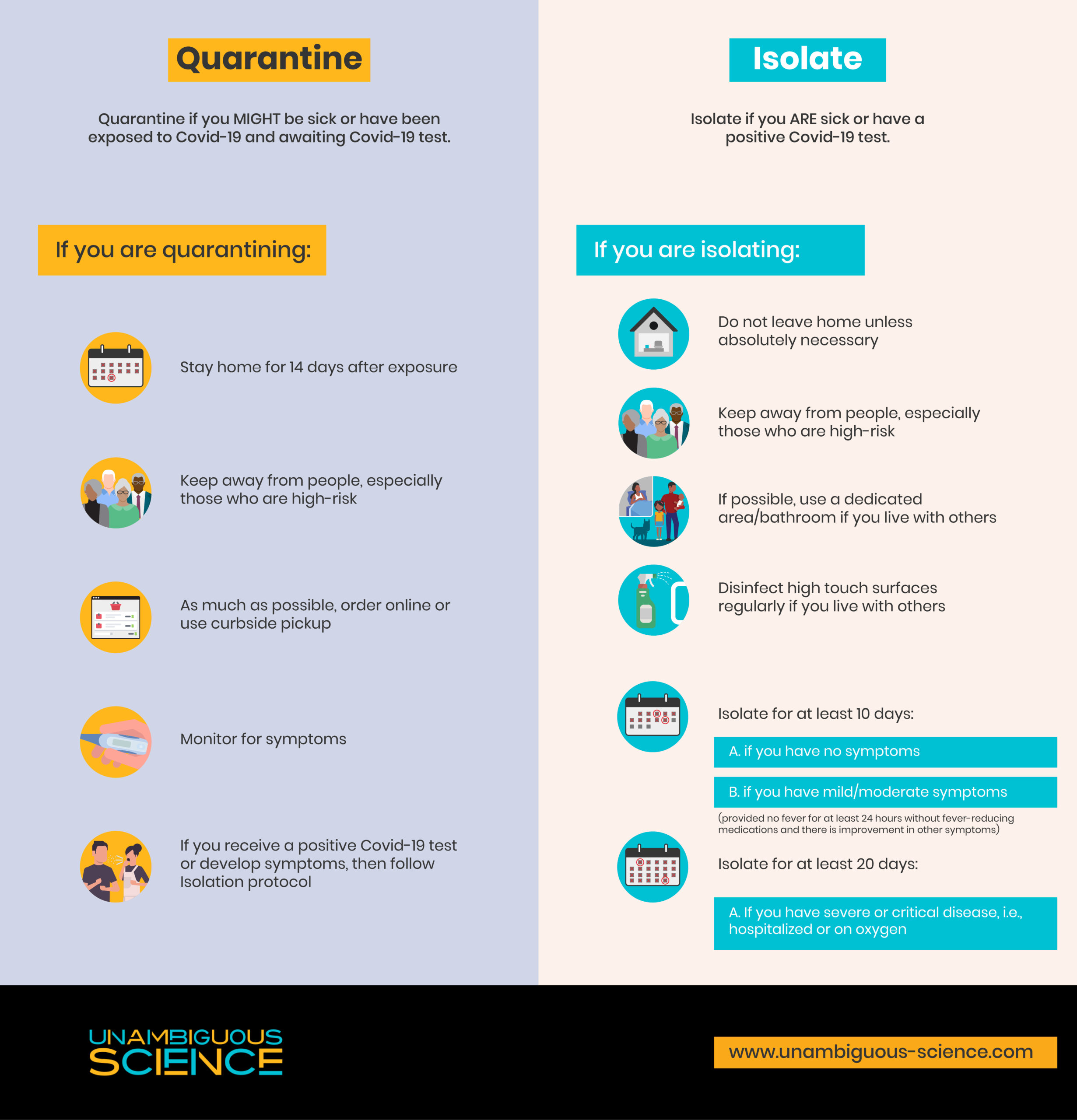 .
𝐐𝐮𝐚𝐫𝐚𝐧𝐭𝐢𝐧𝐞 𝐯𝐬 𝐈𝐬𝐨𝐥𝐚𝐭𝐞
.
There has been significant confusion surrounding these two words and while they are often used interchangeably, they are in fact NOT interchangeable!
.
𝐐𝐮𝐚𝐫𝐚𝐧𝐭𝐢𝐧𝐞 𝐢𝐟 𝐲𝐨𝐮 𝐌𝐈𝐆𝐇𝐓 𝐛𝐞 𝐬𝐢𝐜𝐤.
𝐈𝐬𝐨𝐥𝐚𝐭𝐞 𝐢𝐟 𝐲𝐨𝐮 𝐀𝐑𝐄 𝐬𝐢𝐜𝐤.
.
𝐎𝐤, 𝐬𝐨 𝐡𝐨𝐰 𝐥𝐨𝐧𝐠 𝐭𝐨 𝐐𝐮𝐚𝐫𝐚𝐧𝐭𝐢𝐧𝐞 𝐨𝐫 𝐈𝐬𝐨𝐥𝐚𝐭𝐞?
.
If you are quarantining, Stay home for 14 days after exposure, keep away from high-risk people especially and monitor for symptoms
If you are isolating: Stay home and in a dedicated area/bathroom if possible if you live with others. Disinfect high touch areas. Isolate for at least 10 days:
1- if you have no symptoms
2- if you have mild/moderate symptoms
Per CDC, for those with mild to moderate Covid-19 are not infectious 10 days after the onset of symptoms, provided you have no fever for at least 24 hours without fever-reducing medications and there is improvement in other symptoms.
For those with severe or critical disease, i.e., those hospitalized or on oxygen, that time increases to 20 days as they likely shed more virus over a longer duration of time.
.
𝐃𝐨 𝐲𝐨𝐮 𝐧𝐞𝐞𝐝 𝐚 𝐧𝐞𝐠𝐚𝐭𝐢𝐯𝐞 𝐏𝐂𝐑 𝐭𝐞𝐬𝐭 𝐭𝐨 𝐬𝐭𝐨𝐩 𝐪𝐮𝐚𝐫𝐚𝐧𝐭𝐢𝐧𝐞 𝐨𝐫 𝐢𝐬𝐨𝐥𝐚𝐭𝐢𝐧𝐠?
The answer to this is no. Indeed, you can still have remnants of viral debris that is not infectious post infection, which means you can stay positive on a test beyond the point of being infectious. As long as you follow the days listed above for quarantine or isolation, you do not need a negative test to prove you are not infectious.
.
𝐖𝐡𝐞𝐧 𝐝𝐨 𝐬𝐲𝐦𝐩𝐭𝐨𝐦𝐬 𝐭𝐲𝐩𝐢𝐜𝐚𝐥𝐥𝐲 𝐚𝐩𝐩𝐞𝐚𝐫 𝐚𝐟𝐭𝐞𝐫 𝐞𝐱𝐩𝐨𝐬𝐮𝐫𝐞?
.
Generally, if a person contracts Covid-19, it can take 2-14 days for symptoms to appear. There are some documented reports of symptoms occurring up to 21 days post exposure. However, the average incubation period is 5-6 days. Close to 98% of people exhibit symptoms by day 12. Symptoms can begin mild, but can gradually worsen at around 7 days after onset of symptoms.
Remember, you can be contagious in this pre-symptomatic phase before symptoms appear.