Pfizer 5-11 Approved!
NACI GUIDANCE FOR USE IS INCLUDED BELOW
Dose schedule
NACI recommends two 10 mcg doses of the Pfizer vaccine may be offered to children 5-11 years of age, with at least 8 weeks between the first and second dose.
Evidence from adults suggests longer intervals result in higher and more long-lasting effectiveness and potentially lower risk of myocarditis. Discretion may be used in specific circumstances for a shorter interval.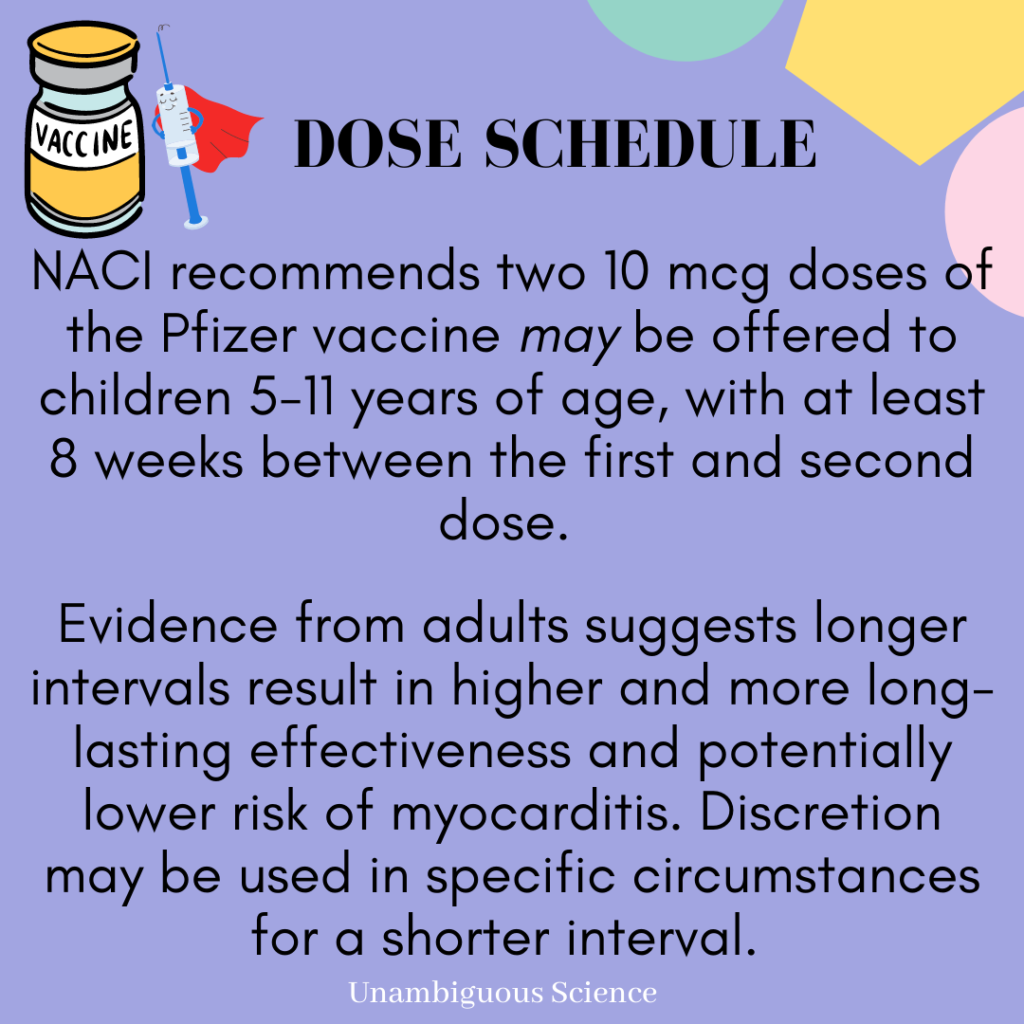 Dosage for 11yo
NACI recommends children 11 years old should receive a 10 mcg dose.
If they turn 12 before the second dose, they can receive the 30 mcg dose.
Children under 12 need a lower dose because they have stronger immune systems compared to youth and adults.
At this time, children under 5 are not included, but provinces can make their own decisions on this.
Previous COVID
NACI recommends two doses of a vaccine may be offered to children 5 to 11 years of age who have had a Covid-19 infection.
For children who have had MIS-C, vaccination should be postponed until they have recovered or 90 days have passed since diagnosis, after consulting with the child's physician.
Spacing with other vaccines
For children 5-11 years old, NACI recommends the Pfizer vaccine be given at least 14 days before or after another vaccine.
This is so we can differentiate between side effects from the Covid-19 and other vaccines. It is likely temporary guidance until we can track adverse events for a few months similar to what we did with adults, but physician discretion can be used.
Myocarditis
Children who experience myocarditis after a first dose should wait to get a second dose until more information is available.
Children who have a history of myocarditis unrelated to Covid-19 vaccination should consult their physicians. If they are no longer under active care for myocarditis, they may receive the vaccine.